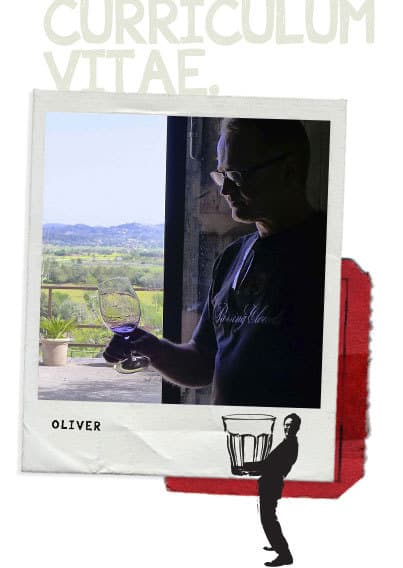 Curriculum Vitae
Personal Details
Date Of Birth: October 7th, 1963
Place Of Birth: Germany
Nationality: German with permanent Australian Residency
Lived in: Berlin, Duesseldorf, Port Moresby, Darwin, Nadi. Lives in: Bendigo, Central Victoria
Qualifications
2016 Certified Sommelier (IHK), Berlin – Germany
2015 Certified Consultant for German Wine, Deutsches Wein Institute (DWI)
2014 WSET Level 3 Award in Wines, Wine & Spirit Education Trust, Melbourne
2004 Certificate IV Workplace Training and Assessment, Charles Darwin University
1989 Diploma in Hospitality Management, Dusseldorf Handelsschule
Vocational Educational and Training
2016 Deutsche Wein und Sommelier Schule, Berlin
2015 -2016 International Wine Institute (IWI) & Deutsche Hotel Akademie IHK Sommelier
2014 Negociants Working With Wine Fellowship Education Program
2010 Licensee, El Gordo Cafe, Bendigo (plus current RSA)
2008 Silver Barista Diploma, Vittoria Coffee College (Sydney)
Employment History & Relevant Industry Experience
August 2016 – June 2017
Schmidt Z&Ko, Berlin
Position: Store Manager
March 2015 – ongoing
Enjoyment Aficionado, Berlin
Position: Owner
Projects: Hospitality consulting; facilitating wine tastings; translating degustation notes; creating wine menus and event Sommelier (e.g. for 'Wild & Wiese' Pop Up dinner #4 and guiding guests through wine and food matches); vineyard worker (e.g. for Jean Stodden Winery in the Ahr Valley, Hessische Landesvertretung, and Kreuzberg Vineyards, Berlin.)
September 2013 – December 2014
La Piazza Wine Bar & Restaurant, Bendigo, Victoria
Position: Senior Team Member
Duties: Food & Beverage service, Sommelier, Barista. Workplace Trainer
September 2013 – October 2014
Edwards Providore, Deli & Café, Strathfieldsaye, Victoria
Position: Senior Team Member, Consultant
Duties: Co-ordinating the daily cafe operations, staff training, Barista.
May 2013 – August 2013
Coffee Basics, Castlemaine
Position: Senior Staff Member & Barista
Duties: Food & beverage service, cooking, Barista, cleaning & daily cafe operations. In the roastery: coffee roasting, preparing & packaging coffee orders.
April 2011 – April 2013
El Gordo Café, Bendigo, Victoria
Position: Owner/operator
Duties: Managing the daily cafe operations, food preparation, Barista, customer relations, event planning & co-ordination, menu development, staff management and rostering, wine selection & ordering from reps, stock ordering & control, daily bookeeping, liasing with suppliers, sourcing local food & wine, Marketing & promotion, industry liaison (including Bendigo Tourism) – you name it! Everything involved in running a small, licensed hospitality business!
June 2010 – March 2011
Shelmerdine Vineyards, Tooborac, Central Victoria
Position: Cellar Door & Restaurant Manager
Duties: Managing the Cellar Door and Whistler Cafe
Other duties:
Day-to-day Cellar Door and Café operations & management, including conducting wine tastings and sales, front of house restaurant management, cleaning and some cooking (for special events). Coordinating & working at wine expos & festival events.
Ensuring compliance with relevant Health & Safety legislation and regulations. Developing and overseeing work practices which support such compliance.
Design and development of some of the cellar door literature, including menus, food & wine pairing, internal advertising and price lists.
Staff training and worked very closely with team.
Receiving and processing direct wine sales including packaging and dispatch.
Menu development, costing and implementation, including ingredient sourcing and procurement.
Stock control including ordering and stocktake of wines, foodstuffs and merchandising.
Point of Sale software administration, including day to day operations and liaison with accounts department as required.
Develop and oversee the Cellar Door Budget implementation in conjunction with the General Manager.
Regular monitoring of sales performance and expenditure against budget.
Provide staff direction and ongoing training where required.
Oversee daily tasks to be completed by staff, and ensure satisfactory performance.
Ensuring staff were provided with appropriate information relating to the wines, ingredients and company information.
Monitoring staff performance and implementation of incentive programs.
Staff roster development and recruitment of staff as required.
Make regular contributions to the company website to document and promote Cellar Door.
Liaison with local Tourism and Industry bodies.
Liaison with Marketing Department, Accounts and Vineyard Managers.
Prepare regular reports to the Board that cover the following: Cellar Door financial performance, Visitation records,
Staffing summaries, Event Diary, Function development and event planning, costing, quotation and implementation, Develop strategies to grow the business including seeking out groups for visitations, Develop opportunities for improved direct selling.
Keeping abreast of Wine Industry matters, through the attendance at relevant workshops and training programs.
Monitoring developments in Cellar Door sales strategies.
March 2010 – June 2010
Bendigo Regional Institute of TAFE, Bendigo City Campus, VIC
Position: Hospitality Lecturer, Restaurant Supervisor
Duties: Delivering national accredited Hospitality courses and supervising the training restaurant.
January 2009 – December 2009
Australia Pacific Technical College (APTC), Namaka, Fiji Islands
Position: Specialist Trainer, Restaurant Manager Fusion Training Restaurant.
Duties: Delivering national accredited Hospitality courses & supervising the training restaurant.
Other duties:
Delivery of Certificate IV Hospitality Supervision training at the Shangri-La Fijian Resort.
Delivery of Fiji's first accredited Barista Training Course.
Overseeing the installation of new bar and barista facilities at Fusions training restaurant.
Delivering wine appreciation training for Fiji's Air Pacific cabin crew.
Being part of the selection panel for Air Pacific's new wine list.
January 2005 – January 2009
Charles Darwin University, Palmerston Campus NT
Position: Hospitality Lecturer, Licensee & Restaurant Manager Karawa Training Restaurant.
Duties: Delivering national accredited Hospitality courses and managing the training restaurant.
Other duties:
Delivering 'provide specialist advice on wine' course to Hospitality Diploma students.
Develope winelist, wine cellar and purchasing of all alcoholic/nonalcoholic beverages.
Delivering training to remote Indigenous students.
Delivering on-the-job hospitality training to Indigenous students at Dugong Beach Resort, Groote Eyland.
Implementation & coordination of degustation dinners and charity dinner auctions.
Implementation & coordination of Barista short course training courses.
Delivering and fostering VET in schools training.
May 2003 – January 2005
Cornicopia Museum Café, Darwin NT
Position: Workplace trainer & Senior FOH Staff Member
Duties: All aspects of Hospitality Operations, and Hospitality Training, inclusive of food & beverage training, wine service & knowledge, bar & cocktail training, barista training, OH&S, workplace hygiene. Accredited on the job training delivery of hospitality operations courses for Cornucopia trainees.
Cornucopia is one of Darwin's most popular Café's and recognised as Darwin's premier wedding function venue. Cornucopia caters for up to 300 guests for banquet functions.
July 1999 – April 2003
Buzz Café, Darwin NT
Position: Restaurant Manager
Duties: Managing the Restaurant
Buzz Café is one of Darwin's most popular Restaurants and has a seating capacity of over 200 guests. As manager, I was responsible for the overall management of Buzz Café's physical and business resources, including financial management, marketing and recruitment and on-the-job training of Restaurant staff.
March 1999 – Jul 1999
All Seasons Premier Darwin Central, Darwin NT
Position: Food and Beverage Manager
Duties: Managing the Waterhole Restaurant & Bar and Function Rooms
As the Food and Beverage Manager I was responsible for managing the award-winning Waterhole Restaurant and the Hotel's function facilities.
April 1997 – October 1998
MGM Grand Hotel & Casino, Darwin NT
Position: Rooms Division Manager
Duties: Manager of Housekeeping and Front Office operations, Reservations.
As the Rooms Division Manager I had the combined responsibilities and duties of Front Office Manager and Executive Housekeeper. This included managing the hotel's business and physical resources, and ensuring financial and resource utilisation capacity budgets were met.
April 1995 – April 1997
The Beaufort, Darwin NT
Position: Guest Services Manager
Duties: Front Office Management
In the combined role of Guest Services and Duty Manager I was responsible for the daily running and monitoring of Front Office operations at what was then Darwin's only five-star hotel.
April 1993 – December 1994
Hotel Cristall, Cologne, Germany
Position: Rooms Division Manager
Duties: Managing Housekeeping and Front Office Departments.
When I started at the Hotel Cristall, the hotel operated on a manual check in / check out system. Six months later the hotel went through a complete renovation and upgraded from three star to five star. During the upgrade, I was responsible for the successful implementation of a new Property Management System, Training of Staff and Marketing the hotel to Industry and Business groups.
November 1990 – November 1992
Sapphire Bistro & Small Goods, Port Moresby, Papua New Guinea
Position: Restaurant Manager / Head Chef
Duties: All aspects of Restaurant Management
Responsible for the development of a new restaurant and management of 15 employees. The restaurant catered for a large expatriate business population, overseas tourists and government functions.
Other duties:
Running a Jazz & Blues dinner service jam session once a week, with some of PNG's finest musicians. Conducting and coordinating quarterly dinner cruises, with live music.
1989 – 1990
Holiday Inn, Ratingen, Germany
Position: Receptionist / Night Audit
1987 – 1989
Holiday Inn, Dusseldorf, Germany
Position: Trainee in Hotel Management
1986 – 1987
Holiday Inn, Dusseldorf, Germany
Position: Assistant Bar Manager
Duties: Duty Bar Manager & 2IC to Bar Manager
The bar catered for the entire hotel, which included Lobby Bar, Restaurant, Cocktail Bar and four Function rooms
Summary of Skills
WSET Level 3 Certificate
Certificate IV in Workplace Training and Assessment.
Senior First Aid Officer
Licensed Security Officer / Crowd Controller
Languages: German, English
Computer: Word-processing, Databases, Spreadsheets and Social Media Content Provision
Marketing / Promotion / Industry Liaison
Hospitality Trainer & Assessor
Specialised RSA Trainer
Hospitality Consultant
Workplace Trainer
Certified Barista
Highly experienced at delivering wine tastings and cooking classes (eg. Darwin & Top End Slow Food Group.)
Experienced at organising special events (eg for Darwin Festival at CDU Palmerston Bakery,'Talking Dirty in the Kitchen'.)
Experienced at delivering wine appreciation training (Eg. Fiji's Air Pacific cabin crew.)
Part of selection panel for Air Pacific's new wine list
Board member Happy Yess social club, Darwin. Organising events, purchasing, bar training and service & crowd controller.