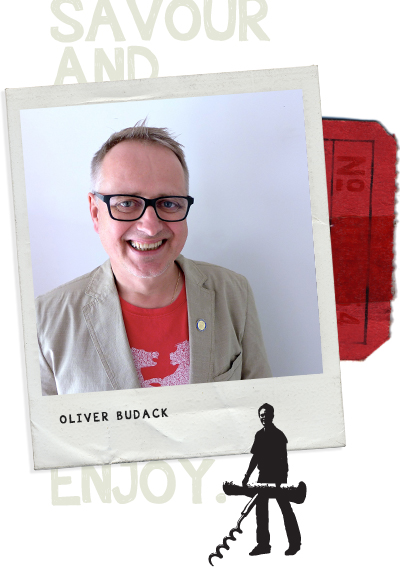 About
Oliver's lifelong quest is to engage with people passionate about producing and sharing the best food and wine.
With his heart deeply anchored in Mediterranean food and wine culture – traveller, wine educator, hospitality manager, sommelier and self-confessed "wine tragic" – Oliver Budack is now 'living the dream'.
German-born – but having lived in Australia and the South Pacific since the early-90s – in 2015 Oliver returned to Germany to obtain his 'somm' qualification through Berlin's prestigious IHK/Deutsche Wein und Sommelier Schule (German Wine and Sommelier School).
In 2017 he moved back to Australia to fulfill a long-held dream: to live and work in "God's country": the McLaren Vale wine region of South Australia.
He's been super-busy ever since working as a sommelier and restaurant manager in the region. In 2018 Oliver was awarded the coveted Wayne Thomas Scholarship, and that same year studied the renowned Advanced Wine Assessment Course (AWAC) at the Australian Wine Research Institute (AWRI). He was an Associate Judge for the McLaren Vale Regional Wine Show in 2019.
In 2020 he completed his Spanish Wine Scholar certification with 'Highest Honours' and is now embarking on French Wine Scholar certification, embracing the never-ending learning experience in the wonderful world of wine.
Oliver works for local boutique producer Sherrah Wines, facilitating Cellar Door tastings at their beautiful brand new venue. (Winemaker Alex Sherrah is a great example of the emerging 'new wave' of young wine-makers in McLaren Vale who are embracing low-intervention techniques and climate-appropriate varietals). Oliver is also part of the Front of House team at The Salopian Inn, one of McLaren Vale's most cherished and accomplished restaurants.
It might not be Spain or Italy, but it's equally as good. Oliver's found home, at last, in one of the Great Wine Capitals of the world…
---
Oliver Budack IS the Enjoyment Aficianado…
"An Enjoyment Aficionado shares an unpretentious philosophy about how to get the BEST from food and wine, by taking people beyond their expecations".
"It's about fun, unlocking the senses, creativity and inclusiveness".
"An important part of my work also involves showing hospitality professionals how to be more 'in tune' with with their customers, and, training managers how to maximise the potential and fulfillment of their staff.
"Plus consulting with restaurants and hospitality businesses to create wine lists that not only compliment their food offerings, but, most importantly, to enhance their customers' dining experiences".
And Oliver's motto?
"'Be generous, not envious', is one".
"Oh – and, 'Enjoy yourself ruthlessly'."
---