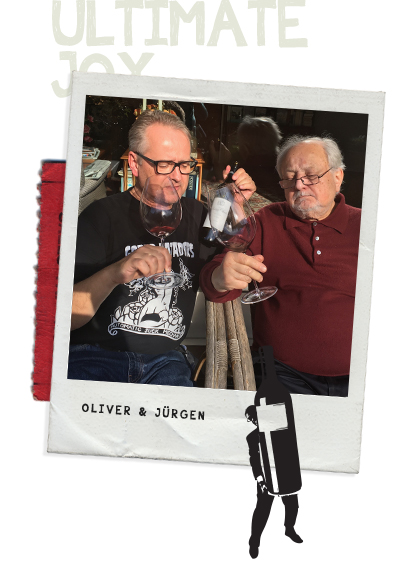 Foundation story
I blame my parents for my obsession with wine…
As a child in the 1970s, each 'Karneval' season my parents and their friends celebrated 'Jürgen's Weinstube' at our suburban home near Duesseldorf, Germany.
A Weinstube is a traditional German wine tavern, in this instance named after my father, Jürgen Budack.
They turned the entire basement into an old-fashioned wine tavern complete with plastic grapes. It was a wine and food-themed party, with guests dressed as vignerons, wine queens and the like.
Welcome to the 70s – and Bacchus' Den!
From my early teens onwards I was 'allowed' to help serve the wine. Mum decked me out as a wine waiter and I loved the job.
There were at least three wines on pour: always a Riesling, a Sylvaner and a Mueller Thurgau – sometimes even an Edelzwicker, a 'noble blend' from the Alsace. (Try saying "Edelzwicker" as a young kid – the guests thought this was hilarious.)
In my later teens I quite often 'sampled' a few glasses of Edelzwicker myself – with parental approval of course!
Guests danced all night to a mix of Blassmusik and Astrud Gilberto. These parties were rowdy and joyful with wine flowing freely. The next morning one of my favourite things to do was count how many bottles had been 'consumed' to see if the record for last year's party had been broken.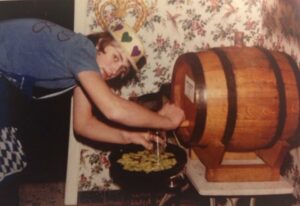 But 'Jürgen's Weinstube' was not the only thing which started my wine bug. From the early 1970s onwards my family holidayed every vintage in a German wine region (sometimes French.) I loved visiting the old cellars, smelling the young fermenting wines, watching the grapes being delivered to the cellar and then being crushed. Drinking a glass of 'Federweisser' (freshly fermented grape juice) from the barrel was one of my ultimate joys in these formative years.
Visiting wine regions during harvest is a great experience which stimulates all senses – from impressions in the wine cellar, to the beautiful changing Autumn landscape and the wonderful meals enjoyed with family and friends in humble wine taverns.
This, combined with long walks through vineyards and forests, left a lasting impression on me.
Inspired – and intent on becoming a hospitality professional – in my twenties I began an apprenticeship in a large Düsseldorf hotel. My dream was to work in Spain in the hotel industry. In my youth I had travelled there a lot and adored the Spanish way of life. I wanted to join their celebration and passion for food, wine and life itself. Unfortunately it didn't eventuate.
In 1989 I found myself running a small bistro in Papua New Guinea with a good friend from hospitality school. I was the Head Chef, Sommelier, Waiter and Cleaner rolled into one!
Thanks to good contacts at the German Embassy we had quite an impressive selection of German and French wine on offer (and beer), to compliment our cuisine of German pork specialities and freshest seafood from the Coral Sea. We had the best local musicians play in our bistro – some from the legendary Sanguma Band, some who went on to join Yothu Yindi – every Wednesday night, a mixture of jazz, funk, blues and rock. We had a full house every week, it was amazing. And I even got to join late-night jam sessions with them after cooking for the night!
I relished my time in PNG and being in charge of the food and beverage pairing – and the music! – in our bistro. Sadly, it became too dangerous to continue living there. After a short stint back in Germany, in 1995 I relocated to Darwin, NT (Larrakia). There, I managed a variety of cafes and restaurants and couldn't wait to get my hands on the local wine lists…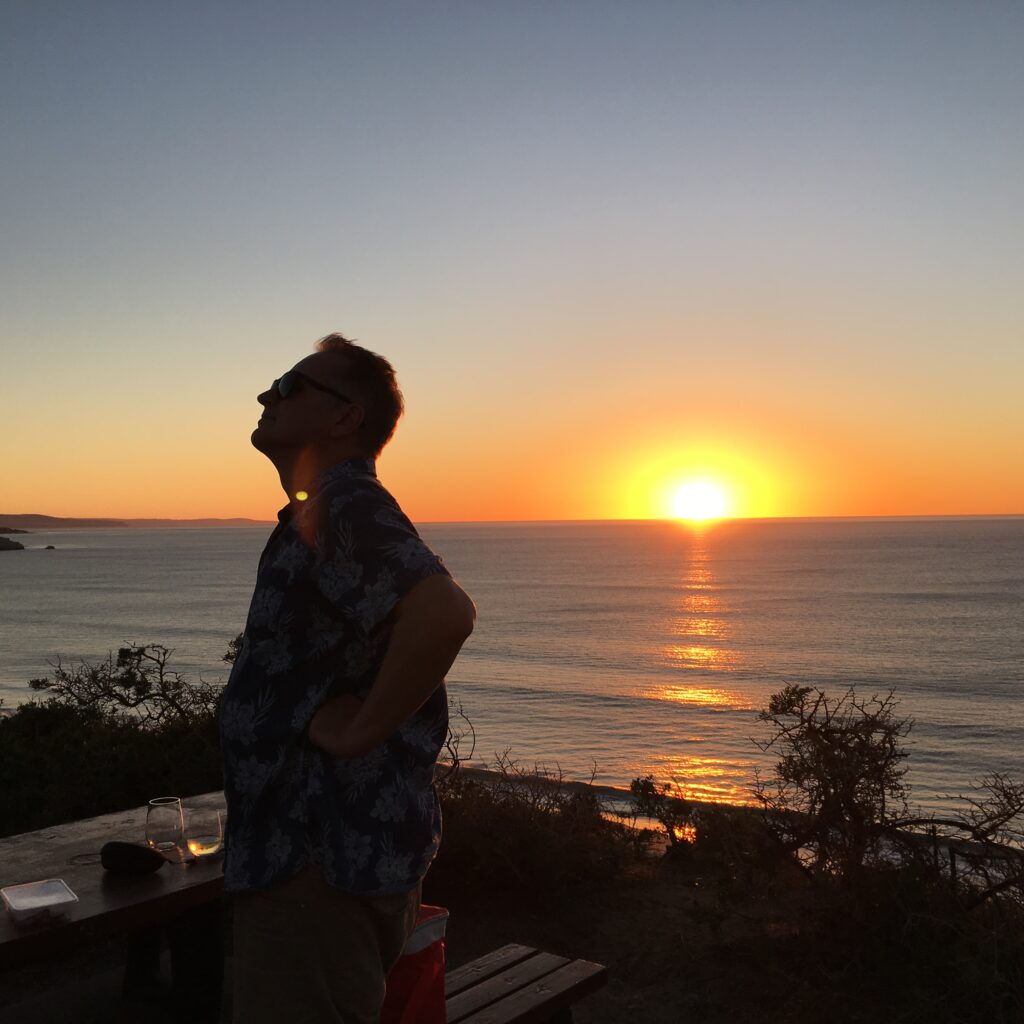 In those days the average list in Darwin included 'four reds and four whites'. The reds were usually two heavy Shirazes and two even-heavier Cabernet Sauvignons; the whites often two wooded and one unwooded Chardonnay, and, one Crouchen Riesling ie BIG flavours and HEAVY on the palette. In my humble opinion, not quite right to compliment subtle Asian-inspired cuisine in a sub-tropical climate.
Darwin's average temperature of 30+ degrees and high humidity created a 'challenge' for anyone to enjoy a heavy red 'at room temperature', especially in a town where al fresco dining was popular. To me, wooded Chardonnay and snapper fillet in a fragrant mango and coriander salsa — just — doesn't — work.
I started to improve the varietal mix on various wine lists, introducing lighter reds such as Pinot Noir, Rhone blends and Rosés. In the white department I added Sauvignon Blanc, Riesling, Semillon and Verdelho. Being just a little bit proud of my 'adjustments', quite often local diners greeted the new wine lists with some 'scepticism'. In the past they had enjoyed their barramundi with a "Fat Shiraz" or an "Oak-chipped Chardy", so why should they now suddenly choose a Pinot Noir or Sauvignon Blanc?
It took a long time until the general dining public was ready to embrace change; at least ten years. However I spent over a decade living and working in Darwin with the quest to create better beverage lists – to give the locals not only new wine options but an opportunity to have an enhanced experience with their local cuisine.
These days Darwin is a very different place and it taught me a lot. I benefited from great opportunities to engage with the public, teaching and training in a variety of industry contexts and learning how to carefully implement change while considering the needs of others.
My ultimate dream in Australia though was to live and work in 'wine country'.
Between 2010-2015 I called the wine country of Central Victoria home (Dja Dja Wurrung), and was employed as Cellar Door Manager of a beautiful, small, family-owned vineyard in the Heathcote region (Taungurung), Shelmerdine Wines. This was followed by operating my own café, El Gordo, where I took full advantage of the local wine selection for our lists. We did some amazing degustation and progressive wine dinners while we were there. It was so rewarding!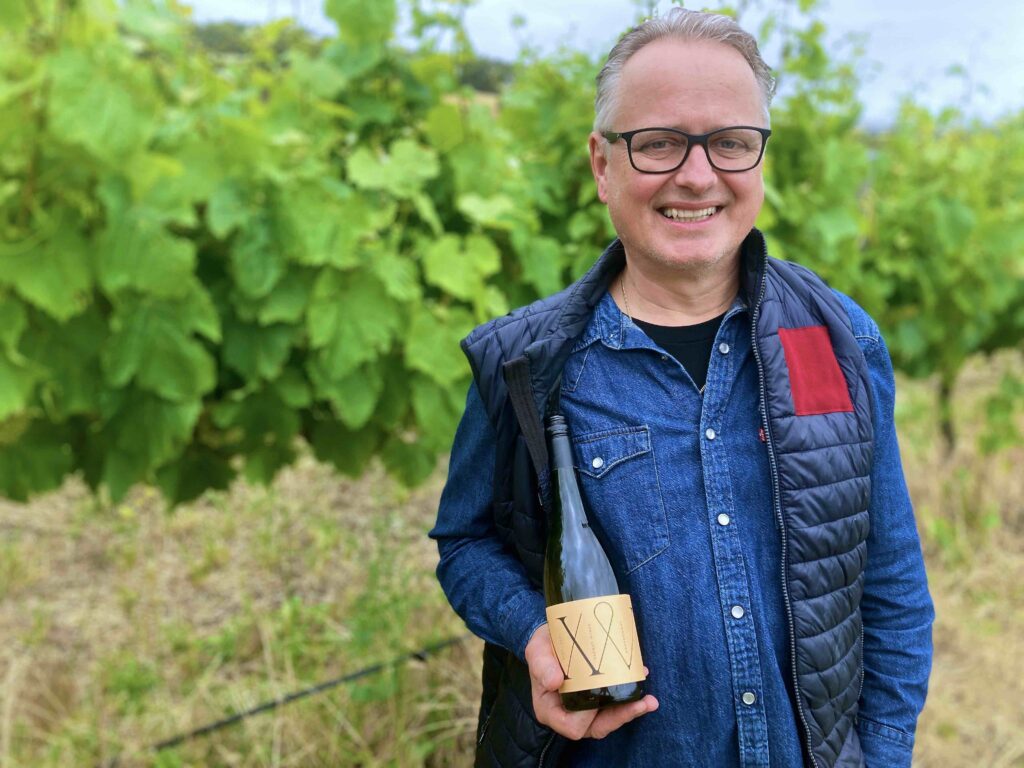 Nowadays, free from the responsibility of running my own business and having become a certified Sommelier – and having moved countries and back yet again! – I'm now living in the McLaren Vale wine region (Kaurna), or "God's Country" as the locals call it.
In what I firmly believe is one of the best wine destinations in Australia, I am gratefully, finally and happily embracing my obsession with wine and everything that goes with it.
With its Mediterranean-like climate – and the local industry's acknowledgement of climate change and necessity for responsible, sustainable farming practices – the wine growers and makers of this region are way ahead of the curve.
They're at the forefront of Australian viticulture, embracing more climate-appropriate varieties, with fantastic results. Next to the big shirazes McLaren Vale is known for, it has relaunched Grenache in Australia as a premium single variety wine style. Southern European varietals such as Tempranillo, Sangiovese, Nero d'avola, Fiano, Greco, Grillo – and many more – also add to the palate of this region.
My professional journey in wine has now reached three-plus decades… Isn't it funny: I feel as if I'm just at the beginning – still learning after all these years.
Mol be!
~ Oliver