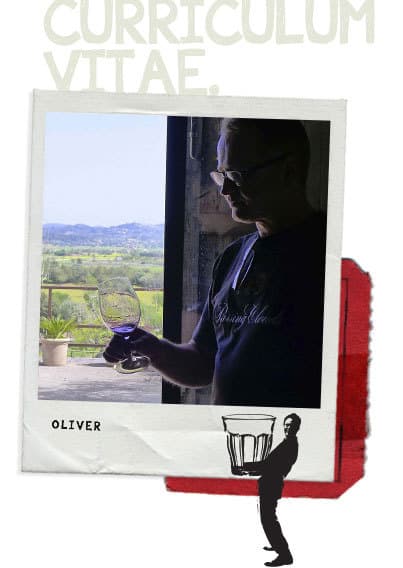 Curriculum Vitae
Personal Details
Place Of Birth: Germany
Nationality: German with permanent Australian Residency
Lived in: Berlin, Bendigo, Duesseldorf, Port Moresby, Darwin, Nadi.
Lives in: McLaren Vale, South Australia
Qualifications
2021 Certified French Wine Scholar, Wine Scholar Guild
2020 Certified Spanish Wine Scholar, Wine Scholar Guild
2016 Certified Sommelier (IHK), Berlin – Germany
2015 Certified Consultant for German Wine, Deutsches Wein Institute (DWI)
2014 WSET Level 3 Award in Wines, Wine & Spirit Education Trust, Melbourne
2004 Certificate IV Workplace Training and Assessment, Charles Darwin University
1989 Diploma in Hospitality Management, Dusseldorf Handelsschule
Fellowships & Scholarships
2022 Food & Beverage Development Fund SA
2018 Wayne Thomas Scholarship
2014 Working with Wine Fellowship
Vocational Educational and Training
2023 Italian Wine Scholar (ongoing), Wine Scholar Guild
2021 French Wine Scholar, Wine Scholar Guild
2020 Spanish Wine Scholar, Wine Scholar Guild 
2018 AWAC (Advanced Wine Assessment Course), The Australian Wine Research Institute, Adelaide, South Australia
2016 Deutsche Wein und Sommelier Schule, Berlin
2015-2016 International Wine Institute (IWI) & Deutsche Hotel Akademie IHK Sommelier
2014 Negociants Working With Wine Fellowship Education Program
2010 Licensee, El Gordo Cafe, Bendigo (plus current RSA)
2008 Silver Barista Diploma, Vittoria Coffee College (Sydney)
Employment History & Relevant Industry Experience
June 2023 –
Hastwell & Lightfoot, McLaren Vale, South Australia
Position: Cellar Door Host & Sommelier
May 2023
Tasting Australia, Adelaide, South Australia
Position: Special Events Sommelier
December 2022 – June 2023
Pearl, Aldinga Beach, South Australia
Position: Restaurant Supervisor & Sommelier
February 2022 – December 2022
Victor's Place, McLaren Vale, South Australia
Position: Restaurant Supervisor & Sommelier
April 2022
Tasting Australia, Adelaide, South Australia
Position: Special Events Sommelier
February 2021 – February 2022
Sherrah Wines, McLaren Vale, South Australia
Position: Cellar Door tastings, wine education
February 2021 –
Salopian Inn, McLaren Vale, South Australia
Position: Front of House & Sommelier
December 2018 – January 2021
Maxwell Wines, McLaren Vale, South Australia
Position: Hospitality Venue Manager
October 2018
Recipient, Wayne Thomas Scholarship
March 2018 – November 2018
Gemtree Wines, McLaren Vale, South Australia
Position: Cellar Door Manager
August 2016 – September 2017
Schmidt Z&Ko, Berlin, Germany
Position: Venue Manager
March 2015 –
Enjoyment Aficionado, Berlin, Germany
Position: Founder
Projects: Hospitality consulting; facilitating wine tastings; translating degustation notes; creating wine menus and event Sommelier (e.g. for 'Wild & Wiese' Pop Up dinner #4 and guiding guests through wine and food matches); vineyard worker (e.g. for Jean Stodden Winery in the Ahr Valley, Hessische Landesvertretung, and Kreuzberg Vineyards, Berlin.)
September 2013 – December 2014
La Piazza Wine Bar & Restaurant, Bendigo, Australia
Position: Senior Team Member
September 2013 – October 2014
Edwards Providore, Deli & Café, Bendigo, Australia
Position: Senior Team Member, Consultant
May 2013 – August 2013
Coffee Basics, Castlemaine, Australia
Position: Senior Staff Member & Barista
April 2011 – April 2013
El Gordo Café, Bendigo, Australia
Position: Owner/Operator
June 2010 – March 2011
Shelmerdine Vineyards, Tooborac, Australia
Position: Cellar Door & Restaurant Manager
March 2010 – June 2010
Bendigo Regional Institute of TAFE, Bendigo City Campus, Australia
Position: Hospitality Lecturer, Restaurant Supervisor
January 2009 – December 2009
Australia Pacific Technical College (APTC), Namaka, Fiji Islands
Position: Specialist Hospitality Trainer, Restaurant Manager Fusion Training Restaurant.
January 2005 – January 2009
Charles Darwin University, Palmerston Campus, Australia
Position: Hospitality Lecturer, Licensee & Restaurant Manager Karawa Training Restaurant.
May 2003 – January 2005
Cornicopia Museum Café, Darwin, Australia
Position: Workplace trainer & Senior FOH Staff Member
July 1999 – April 2003
Buzz Café, Darwin, Australia
Position: Restaurant Manager
March 1999 – Jul 1999
All Seasons Premier Darwin Central, Darwin, Australia
Position: Food and Beverage Manager
April 1997 – October 1998
MGM Grand Hotel & Casino, Darwin, Australia
Position: Rooms Division Manager
April 1995 – April 1997
The Beaufort, Darwin, Australia
Position: Guest Services Manager
April 1993 – December 1994
Hotel Cristall, Cologne, Germany
Position: Rooms Division Manager
November 1990 – November 1992
Sapphire Bistro & Small Goods, Port Moresby, Papua New Guinea
Position: Restaurant Manager / Head Chef
1989 – 1990
Holiday Inn, Ratingen, Germany
Position: Receptionist / Night Audit
1987 – 1989
Holiday Inn, Dusseldorf, Germany
Position: Trainee in Hotel Management
1986 – 1987
Holiday Inn, Dusseldorf, Germany
Position: Assistant Bar Manager
Summary of Skills
Associated Wine Judge
AWAC (Advanced Wine Assessment Course) at AWRI
WSET Level 3 Certificate
Certified Sommelier (IHK)
Certificate IV in Workplace Training and Assessment.
Senior First Aid Officer
Languages: German, English
Computer: Word-processing, Databases, Spreadsheets and Social Media Content Provision
Marketing / Promotion / Industry Liaison
Hospitality Trainer & Assessor
Specialised RSA Trainer
Hospitality Consultant
Workplace Trainer
Certified Barista
Highly experienced at delivering wine tastings and cooking classes (eg. Darwin & Top End Slow Food Group.)
Experienced at organising special events (eg for Darwin Festival at CDU Palmerston Bakery,'Talking Dirty in the Kitchen'.)
Experienced at delivering wine appreciation training (Eg. Fiji's Air Pacific cabin crew.)
Part of selection panel for Air Pacific's new wine list
Board member Happy Yess social club, Darwin. Organising events, purchasing, bar training and service & crowd controller.
Outline of Tasting Experiences