In August 2017 I visited the Max Müller I winery in Franconia, Southern Germany. Members of the Müller family have been in the wine business for the past 400 years.
Today the winery is led by Christian Müller, 4th generation winemaker of Weingut Max Müller I. He is humble, hard-working and totally committed to elevating the status of the Silvaner grape varietal to that enjoyed by German Riesling. The renowned Eichelmann Wine Guide awarded Max Müller I "Best White Wine Collection" for 2017.
The wine region of Franconia is in Northern Bavaria with the Müller's award-winning cellar door situated in the beautiful, historical township of Volkach, near the mighty River Main.
Nearly 75% of the total vine growing area is planted with white wine varietals, the most important being Silvaner and Müller-Thurgau. Both are autochthone varietals of Germany, but are hardly known outside of the country.
As a Sommelier I always look for new and exciting wine and food matches. Both Silvaner and Müller-Thurgau are very 'food friendly' wines – I especially love wines made from the Silvaner grape. In general these are lighter-style wines which show good, well-integrated acidity and not as powerful as in a Riesling.
Furthermore, Silvaner wines show delicate herbaceous aromas combined with earthy notes and often a creamy mouth feel. A Silvaner likes to be a respectful, accompanying food partner, letting the food shine. Importantly, it supports the aromas in a meal but doesn't dominate them. You could argue that Silvaner makes a safe bet, especially in dishes with more gentle aromas.
It is a perfect match.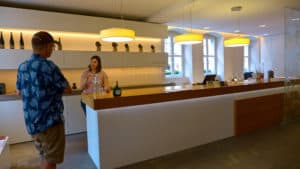 What I particularly like about the Max Müller I wines is the commitment to sustainable, eco-friendly vineyard practice and their "less intervention in the cellar" approach. The Müllers see themselves as custodians of their land and want to pass it on to the next generation in a healthier condition.
Christian Müller is also totally committed to increasing Silvaner's popularity both in Germany and beyond its borders. He believes in natural wine-making practices. With that comes the lesser use of sulphur, prolonged must-skin- and lees –contact, and sometimes gentle oak maturation.
It was fascinating and inspiring to meet Christian, and to listen to him talk about his love for Silvaner and the unique terroir of Volkach. His wines are excellent, complex and certainly give you the thirst to know – and drink! – more.
Listen to our conversation – and our tasting – in Episode 03 of my wine podcast, "Gut Feeling".
Note: German Silvaner can be difficult to get in Australia. Instead try an Australian Sylvaner, such as the 2017 Sylvaner from Home Hill, Tasmania.
Grateful thanks: Christian Müller, Rainer Müller, Jenni Müller and family!
Visit: Weingut Max Müller I website and like their Facebook page
Photo credits: Megan Spencer and Oliver Budack, (c) 2017
Feature photo: Christian Müller's tattoo reads in translation: "My Silvaner rocks". Yes it does! Photo Megan Spencer (c) 2017
View: the full photo essay from Max Müller I here.